I am very aware that technically, follow-through is two words. But hey, some rules are made to be broken! Last year I decided that I was on board with choosing a word of the year instead of doing a resolution, and it went pretty well for me!
Let's refresh- why choose a word?
Every year, so many of us make resolutions. Sometimes they're doable, but many times, they aren't. We set outrageous expectations for ourselves and then when we fail to live up to them, we're left feeling like failures. Our mood plummets, our self worth lessens, and we get angry with ourselves. That, or we just give up. Choosing a word instead acts as a guide… It's a lot less strict and stressful, and much more motivational. It's a powerful and achievable way to move forward and grow. All you have to do is be intentional.
Last year, my word was fearless.
I no longer wanted to hold myself back or keep myself small. The biggest fear I was determined to let go of was the fear of not being enough. To stop being afraid of letting other people down just by taking care of myself. I wanted to stop being afraid to take up space. Letting go of this fear allowed me to be more vulnerable with this site and to show up more on my platforms and raise my voice. It allowed me to set firmer boundaries, stop people pleasing and continue removing toxic presences from my life. This in turn helped me to get closer to who I want to be.
Was there still fear?
Of course there was. Some days, I was scared out of my mind. But I often did the thing anyway. So it wasn't fearless per say, but acting fearless if that makes sense. And I am damn proud to look back at everything I was able to accomplish because of that mindset. And so clearly, choosing a word for the year worked for me.
This year, it's follow-through.
Towards the end of last year, I really started to analyze why I kept getting stuck. Stuck with my business, stuck with personal relationships, stuck with weight loss or with my home renovations. I realized that while I always started things with excitement, feeling motivated and powerful, I would never follow-through. There were always reasons or excuses to stop. I realized that I was getting in my own way, mainly because I was afraid of failing. AHHH an area of my life that I was definitely not acting fearless!
And so I guess you could say last year's word (fearless) is carrying over and teaming up with this year's (follow-through). I'm done letting myself give up just when I'm getting close to success. No more sitting back or getting lost or getting stuck. If I say I'm going to do something, I'm going to do it. If I start a project, I'm going to finish it. My ADHD/Trauma brain might make this hard, but I've been working on learning some new tricks to help me to work with my ND mind instead of fighting it. I'm going to find ways to follow-through on all of it.
I'm so excited about the doors this will open up.
As with many people facing a new year, I've got a ton of positive energy and I'm hopeful at what 2023 will bring. There are so many new projects and ideas and opportunities on the horizon and I am pumped!
What do you think- will you follow-through this year? Or do you have a different word in mind?
If you're struggling to figure out what your word should be, I highly recommend journaling to figure it out! If you've been following along for a while, you know that journaling is my go-to tool for figuring out our minds or our hearts, as well as for a multitude of other purposes. I really think it's one of the best things we can turn to. And if you need a journal, I got you! Head on over to my shop or send me a message and we can get on it! Or if you have your word already, I can custom make you a journal with that word burned across the cover so that you have a visual reminder to inspire you all year long.
I also have word of the year pins in my shop for a smaller, more portable reminder!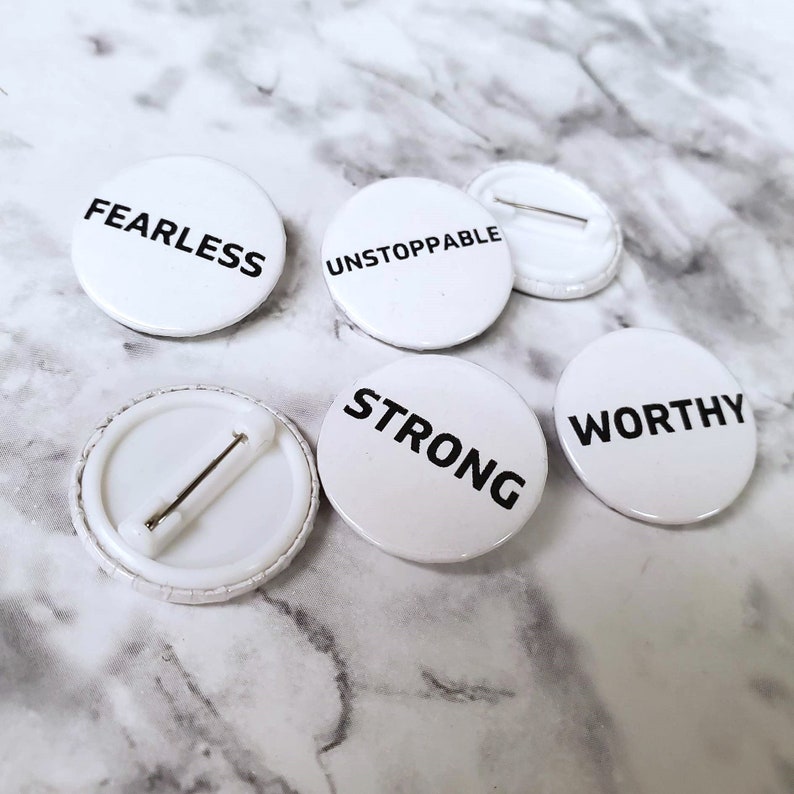 ---
Check out some of my other posts here. And don't forget to subscribe for some awesome freebies and discounts!
Want to connect further?